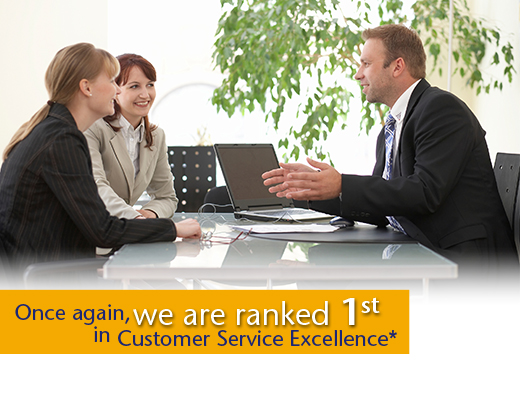 For the seventh year in a row, an independent survey of Canadians ranked credit unions first in overall quality of customer service among all financial institutions.*
Credit Unions ranked ahead of all other financial institutions in the following categories:
Customer Service Excellence
Values my Business
Branch service excellence
Credit unions also tied for first in the following categories:
Financial Planning & Advice
Telephone Banking Excellence
With your credit union, your needs always comes first. We are uniquely structured with you, our members, at the top of our organizational structure as both the owner of the financial institution as well as the customer. We never have to balance the shareholders interests versus those of the customer, as they are always one and the same.
Additional Information about the survey
Synovate's Customer Service Index (CSI) survey profiles the personal banking sector in Canada, identifying and quantifying the typical customer experience among every key financial institution within province/region and across all retail banking touchpoints and channels, including branch, online, mobile, ATM and telephone.
Established in 1987, CSI provides clients with timely, highly robust competitive benchmarking information and key performance indicators sourced from a large scale quarterly sample of retail banking customers. CSI surveys go to field each quarter, ensuring that reported results are always up-to-date. Sample size for the total 2011 CSI program year ended August 2011 was 40,353 households yielding 60,641 financial institution ratings.
Results from CSI generate the annual winners of the Synovate Best Banking Awards.
Click here to view the complete list of Synovate 2011 Best Banking Awards Winners
Additional information about the research firm
Synovate is a global market research firm that generates insights to help clients drive competitive brand, product and customer experience strategies.
Click here to learn more about Synovate and visit their website
* The Synovate Customer Service Index (CSI) 2011 was conducted with a total of 40,353 demographically and regionally representative sample of Canadians. The Best Banking Awards for 2011 were based on the combined results of ongoing quarterly Customer Service Index surveys ended August 2011. The CSI survey has been in existence since 1987.