Max out your RRSP contribution room with a Take Ten RRSP Loan and see how much you can get back in your pocket.
More often than not, Canadians do not make their maximum RRSP contribution each year. Over time, their unused room accumulates. To best utilize this unused room, your Credit Union offers the Take 10 RRSP Loan.
Using the Take 10 RRSP Loan, you can make a lump sum investment into your RRSP now, and take up to 10 years to pay it off. This means your investment will have the most time to grow while you're paying it off, putting the power of compounding interest to work for you.
Features of the Take 10 RRSP Loan
Terms from 12 months to 10 years available
Invest in any RRSP product including Term Investment, Index Linked, or Mutual Funds**
Minimum payment of $100/month required
Flexible repayment options
Funds can only be used towards a RRSP investment with the issuing Credit Union
Borrowing to invest in your RRSP with the Take 10 RRSP Loan is similar to a monthly savings plan in reverse. You still make a monthly payment, just like a monthly savings plan, with the benefit of a lump sum investment earning interest from day 1.
Comparing a lump sum investment to annual contributions of the same principal amount, you can earn 12% more at the current 5 year investment rates. This is a result of your entire lump sum earning the interest from the beginning, versus only the accumulated payments earning interest at any given year.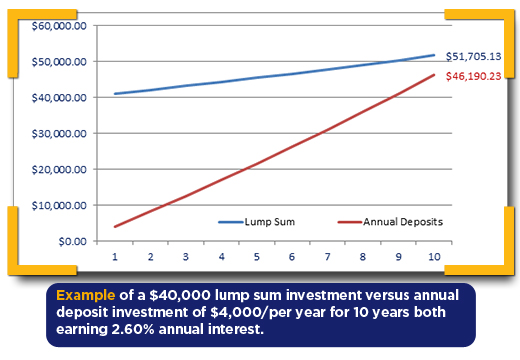 On the other hand, unlike a monthly savings plan, a portion of your monthly payment goes towards interest on the loan. At the end of your term and even though you we're paying interest on a loan during the entire term, your investment's earned interest will be greater than your loan's total interest, resulting in a net benefit to you.

Contact your nearest branch to learn more about maximizing your RRSP with a Take 10 RRSP Loan.

*OAC, terms and conditions apply. Subject to change without notice.
**Mutual funds are offered through Credential Financial Strategies Inc. Commissions, trailing commissions, management fees and expenses all may be associated with mutual fund investments. Please read the prospectus before investing. Unless otherwise stated, cash balance, mutual funds and other securities are not covered by the Canada Deposit Insurance Corporation or by any other government deposit insurer that insures deposits in credit unions. Mutual funds are not guaranteed, their values change frequently and past performance may not be repeated.