e-Statements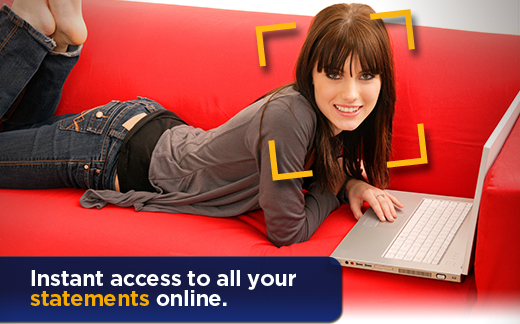 Electronic statements (e-Statements) are digital copies of your monthly account statements available through MemberDirect Online Banking. E-Statements give you more control over your record keeping; you chose how to view and store your statement information. If you just want the ability to review your statements from time to time, they are automatically archived so you can access them in the future. If you really prefer the feel of a paper statement, simply print the ones you want from your personal computer.
What does this mean for me?
You no longer receive a paper based copy of your statements in the mail. Instead, you will see a new statement posted each month under the e-Statements tab of MemberDirect Online Banking. If you would like a paper based copy, simply print the ones you want from your computer.
Why e-Statements?
E-Statements have all the same information on them, with the added benefit of being available instantly on Online Banking. E-Statements are better than mailing out paper based statements because they never get lost or misplace, and don't have to be stored in a filing cabinet. Overall, e-Statements are faster, more secure, and more economical than paper statements for keeping records of your finances.
Will I get the same information in my e-Statement that I get in my paper based statement?
E-Statements are identical in information and appearance to the paper based statements.
How will I look up past statements if I don't have them in paper?
A significant benefit to e-Statements is that we manage the record keeping for you with our automatic online archive. You can retrieve your past statements anytime, anywhere you have access to online banking. To access your statements offline, you can simply download and save a PDF version of your statements on your personal computer's hard drive for indefinite storage.
What if I do not have online banking?
Simply visit your nearest branch and we will set up online banking for your accounts. If you're uncertain about online banking, our service specialist can answer all your questions and even walk you through using online banking, showcasing the many benefits of 24/7 access to your accounts anyplace, anytime.
Still uncertain about e-Statements?
If you have any additional questions regarding e-Statements, please give us a call or visit us in person. Click here to find your nearest branch.