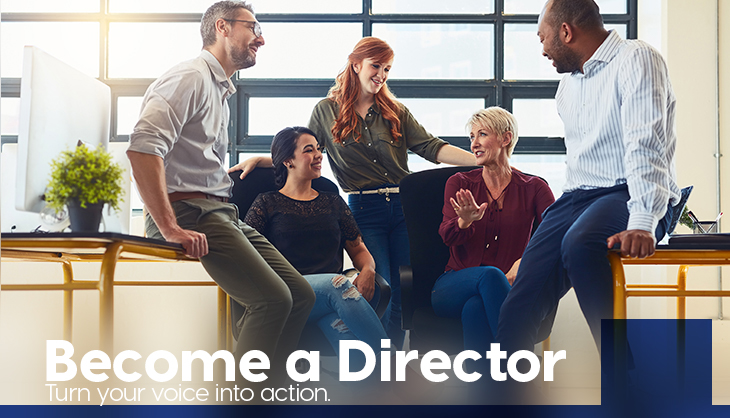 Directors reflect the community they serve. You could play an integral role in shaping the future direction of your
credit union.
Members working for members
Credit unions are full service financial co-operatives. Our members are our owners. Rooted in this co-operative
structure, the credit union difference is all about service – by members for members, right here in our community.
Make a difference in your community as a Director on the Board
Credit unions' profits have a higher purpose – to benefit the people they were built to serve. Any extra profits leftover
at the end of the year are returned to members in the form of dividends, or donated to communities in the form of
donations, scholarships and other initiatives.
The Directors of a credit union represent the communities they serve. It is important for a credit union to have a strong
board consisting of a diverse group of people.
If you share our belief that financial institutions best serve the people who use them and their communities, then you
can make a real contribution; you can help your community thrive.
Make a difference in your credit union as a Director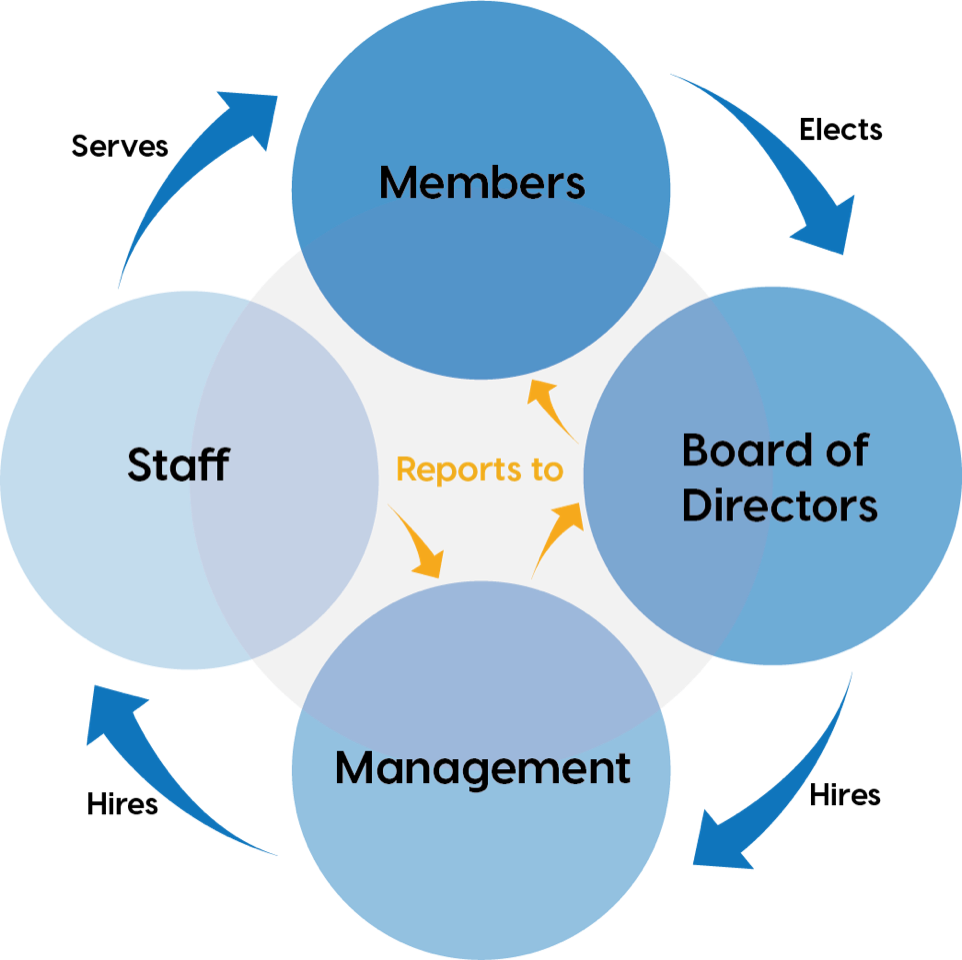 As policy makers, Directors are instrumental in effecting positive changes within the
credit union management. Directors provide a direct link and a fresh perspective helping
their credit union be more responsive to member needs.
As a Director, you are accountable to the membership, for all policies and decisions at
your credit union. You are also responsible to ensure sound management of the credit union
and to safeguard the members' assets.
Expand your everyday personal skills

Develop your networking circle and discover more about the financial world.
As a Director you will experience exceptional growth, and be able to use your new skills set in your everyday life.

Expand your skills with training
As a Director, you will be given all the training and tools needed to succeed.
Designed for credit union Board of Directors, this unqiue learning program is a roadmap to the knowledge and skills
required to effectively govern the credit union. Each level includes courses focused on different aspects of governance,
specifically related to co-operative deposit-taking financial institutions.
To best serve your lifestyle, courses are offered as in-class or online sessions.
Nomination process
1. Position(s) open on the Board of Directors
2. Eligible members are nominated
3. Members vote to elect the Director(s)
4. The newly elected Director(s) begin their three year term on the board
Ready to join the Board?
Create a lasting impact on your community as a member of the Board of Directors.
The credit union would benefit from your energy and expertise!
Board of Directors Eligibility Requirements*:
A person who is a citizen of Canada, 18 years of age or older, a member/owner of the credit union, acts as an individual
owner, not on behalf of a company/organization and who satisfies the requirements set out in the by-laws of the credit
union may be a Director, unless he or she:
is an employee of a credit union, credit union central or the Credit Union Deposit Insurance Corporation
is a Director of another credit union
is a professional advisor to a credit union
has a loan more than six months in arrears
has the status of bankrupt
has been convicted within the previous five years of an offence related to the qualifications and duties of a Director, including but not limited to fraud